Keep up to date with all the latest news and see past events at Wisbech Tennis Club
---
September 12th 2021 – Finals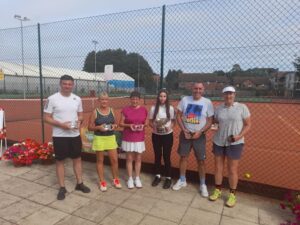 Wisbech tennis club had the final of the singles competition, which was held through the summer, on Sunday the 12th September. It was a lovely hot day which was thoroughly enjoyed by spectators. Jan Wildman played Jacqui West in the Plate final with Jan taking the win. Wendy Cropp was defeated by strong opposition Sophie Tjurina in the ladies final. Jason Smith took triumph over Ken Williams in the men's Plate finals. All competitors played extremely well producing games that were a joy to watch.
In the afternoon there was a team tournament played with 4 teams partaking. The blue team took the trophy and everyone enjoyed tea and cake afterwards.
---
25th July 2021 – Mini Court Family Tournament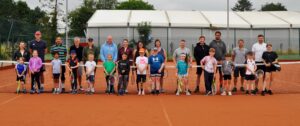 15 Family Pairs played in our Mini Court Family Tournament earlier this afternoon. There were 3 groups of 5 pairs split according to age, who each played the other pairs in their group over 7 minutes. Some players were new to the game, some have coaching, some have been playing for a few years, but the idea was to have an enjoyable, fun, afternoons tennis.
The group winners were presented with a medal, and all the children received a certificate. The winners were Freya Harvey age 6 with Dad Drew, Hettie Brewer age 8 with Grandad Kevin and Addison Williams age 11 with Dad Ken. It was great to see so many parents and grandparents join in today.
---
25th June 2021 – Team Tournament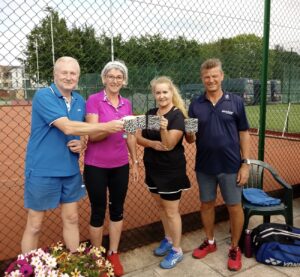 A team tournament was held on Sunday at the club where teams of four, played in pairs for 7 minutes, against all the other players.  The eventual winneres were Duncan Partington, Jane Page, Elaine De Leuce and Gary Fitzjohn.  The winners were presented with a mug by Event Organiser Wendy Cropp.
---
AGM 2021
The AGM this year has been set for 28th July 2021, at 6.30pm for 7.00pm start, this year being held at THE SECRET GARDEN, Mile Tree Lane, Wisbech, PE13 4TR  
---
7th May 2021 – Half Term Tennis 1st and 2nd June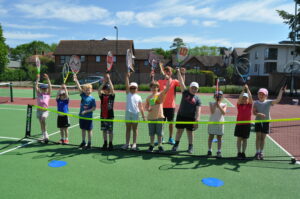 Two days of tennis during half term enjoyed by lots of youngsters in the sun, pictured with On2Court Coach Lewis Martin.
---
13th April 2021 – Tarmac Courts Painted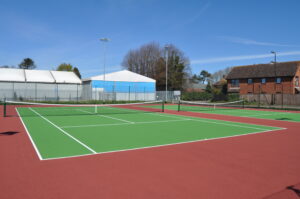 Our tarmac courts have received a coat of paint and now look splendid in their new colours of green and red.  They will be open on Monday 19th April for play and are fully floodlit. 
---
9th April 2021 – Junior Easter Tennis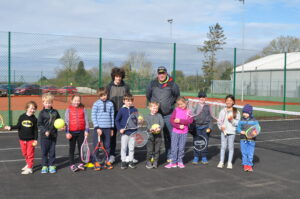 A three day Easter Holiday Camp for juniors was held at the club from the 6th to the 8th April,  under the guidance of Club Coach Bruno Maraschin.  Groups of junior players of between 5-9 years of age and older players from 10-17 years of age undertook a variety of drills and skills and enjoyed the fresh air with some fun and games on the courts.