Plate Finals – 13th September 2020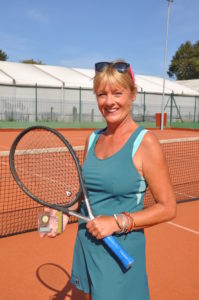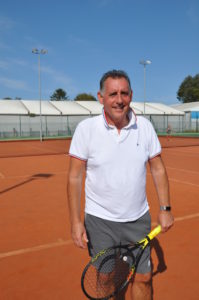 Jacqui West and Jason Smith won the first Plate Finals Competitions played at the club.  This is for competitors who are knocked out of the Singles Championships in the first round.  Jacqui played Anne Piccaver and got off to a good start winning the first 6-1 but Anne fought back in the second set but lost 6-3.  Andy Lister and Jason Smith had a very hard hitting game in which Jason took the first set 6-3.  The second set was a marathon and went to a tie-break, and after a two hour match Jason won 7-6.
---
Club Singles Championships – 13th September 2020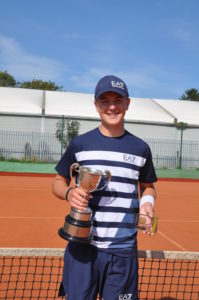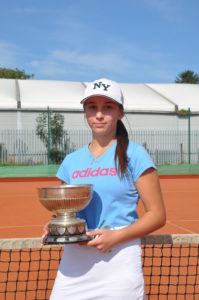 Sophie Tjurina 14, and Seth Briggs-Williams 15, both retained their Club Singles Titles again this year.  Sophie was aways in control against Wendy Cropp, a previous six times holder of the title, and won 6-1, 6-0.  Seth who was playing club coach Bruno Maraschin in an eagerly anticipated match, which did not disappoint.  The first set was a thrilling close one of 6-4 to Seth, with both players showing full control of some exceptional shots.  The second set Seth won 6-2, which was the best final the club has seen for many years.  Both winners are pupils at Thomas Clarkson Academy in Wisbech.
---
New Court Development – 10th August 2020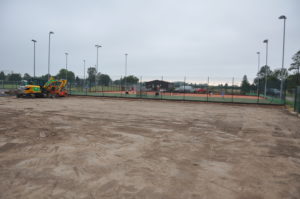 We are excited to inform you that the development of our two tarmacadam courts started on Monday and is expected to take 10 weeks to complete.  The club is grateful to club member John Jewson who has helped with the initial ground works by removing the soil from the site free of charge.
This latest project is only possible due to a great deal of hard work from members of the committee to apply for and secure the funding, from a number of different sources, being Amey,  Cambs LTA, Robert Hall Trust and Sport England.  The club itself is also contributing over £25000 which has been raised from member subs, and fundraising over the last few years.
---
Free Tennis for NHS and Key Workers – 8th August 2020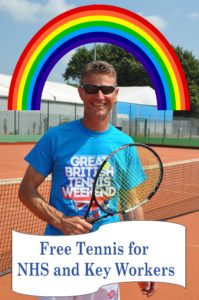 As a THANK YOU to all our NHS and Key Workers, Gary Fitzjohn one of our coaches, has offered free tennis lessons on Sunday 16th August between 1-4pm at the club.  All equipment will be provided. Please contact Gary on garyfitzjohn@btinternet.com to reserve your place.
---
 On2court tennis lessons during August for £20 – 1st August 2020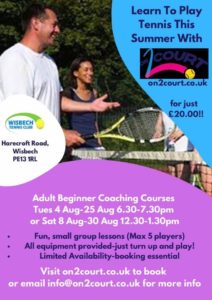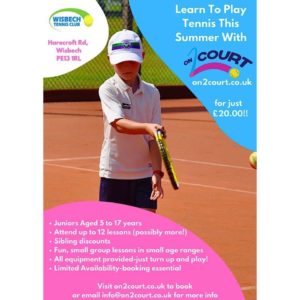 ---
COURT RE-OPENING – Thursday 14th May 2020
The committee have been working together, over the last couple of days, discussing all the relevant issues very carefully, as the safety of our members is paramount, as we need to be sure that we can facilitate safe play at the club.
The club will initially be open to MEMBERS ONLY and you MUST book a court, via Clubspark, before coming to the courts. If you experience any difficulties booking a court, please contact Wendy on wtcteammanager@gmail.com or 07514 248692.
Before you book a court please read the guidance for players from the LTA website as we will be following their protocol.
Here are some details particular to Wisbech Tennis Club:
The clubhouse will remain closed and the benches are off limits.




The first aid kit will be in a container in front of the clubhouse.

Hand santizer will be available but please bring your own to use before and after unlocking the gate.

Nets will not need to be altered. We will set them at the correct height.

Each player will need to bring their own tennis balls that are clearly marked.

You only serve using your own balls and avoid using your hands to pick up other balls.

Please ensure that the courts are dragged at the end of your session and use hand sanitizer before and after using the drag mats.

The floodlights will not be available.

Please ensure that gates are padlocked as you leave.
As only singles play is permitted (unless playing in a family group) there will be no organised Club Sessions. Anyone abusing the guidelines will have their membership revoked and please be aware that the Club may be forced to close again at any time.
Membership
As from April 1st we have been into the new membership season. Due to not being able to play for 6 plus weeks the committee have made the decision to reduce membership rates. The full-adult rate will be £95 – this is the rate that would normally be payable from June. All other membership categories will also be offered at the June level.
---
COVID -19 Update Wednesday 24th March 2020
To ensure the safety of our members following on from the GOV.UK CORONAVIRUS ALERT last night and new rules in force to stay at home, the Committee have taken the decision to CLOSE THE COURTS. The gates have been padlocked to stop access. Please stay safe at home and we look forward to welcoming you back when we are able to do so.
---
COVID-19 UPDATE WEDNESDAY 18TH MARCH 2020
The latest advice that we have been given from the LTA regarding Coronavirus includes the following statement:
'The Government have currently indicated that recreational exercise that takes place at a safe distance from others and in safe exercise environments is something that can continue during this period'.
Therefore it has been decided that tennis activities can continue at the Club, including Club Nights, Men's Winter League and Team Practices.
However we recommend that advice received from the Government regarding Social Distancing is adhered to by all members, particularly our mature members (over 70) and anyone who has an underlying health condition.
The Saturday Tennis and Cake sessions will unfortunately have to do without the cake… as this can mean over 10 people in an enclosed area.
We also recommend that players, once they have signed in, wait outside for a session to commence, rather than in the clubhouse and players should not be expected to shake hands (or any alternative) at the end of a game.
All coaching courses have been suspended by On2Court, until further notice.
Therefore, if you would like to continue playing tennis during these difficult times and you are not showing any coronavirus symptoms then 'we are open for business' and you are welcome to do so. However, if you fall into the 70+ group, have an underlying health condition or would rather keep your distance, for whatever reason, that is fine. The health of all our members is our priority and even if you are scheduled to play at Club Night, in the Men's League or a Match Practice session we understand if you would rather not – please do let Wendy or Jacqui know.
Should the position change, or further advice and guidance is provided from the LTA, then the Club will update members.
The Committee
Wisbech Lawn Tennis Club
https://www.gov.uk/guidance/coronavirus-covid-19-information-for-the-public
---
Safe to Play – 29th February 2020