Decorate a tennis ball for our Christmas Tree in Peckover House
There are a number of tennis balls on string all ready for you to get creative for this years Christmas Tree at Peckover House.  This will be staged between 9th to 16th December 2018.  We had some wonderful ideas and creations last year and if you are stuck for inspiration you can always look on the internet.  They don't have to be expensively done, whatever you have at home will do, just enjoy decorating them.  Not just for children adults can do one too!  If you would like to go into the draw for some free tickets for this event please place your name in the envelope on the notice board or let Sue know.
---
Halloween Tournament – 25th October 2018
A group photo before our first introductory Halloween Tournament for ages 6,7 and 8.   The children all played each other in a game of timed singles on mini sized courts to give them match experience.  Great fun was had by all in the sunshine, and it was good to see the parents join in with the children at the end.  All the players received a certificate for taking part, and Felix Markillie was the overall winner and was presented with a medal. Hot dogs were served after the match together with Halloween themed cakes.
Thanks to Jane, Gary, Jacqui, and Sue for helping out, and a special thanks to our young volunteers, Lucy, Alfie, Harry and Emma.
---
Ladies Tournament – 29th September 2018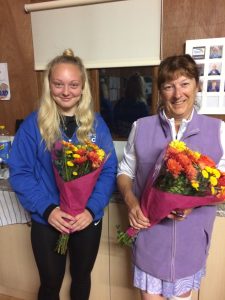 17 year old Charlotte Brett partnered with Wendy Cropp were the successful winners of Fridays Ladies Tournament.   The round robin event was organised by Jane Page with Sue Pitcher as timekeeper, and each pair played a timed 7 minutes tie break. This was the first time several ladies had played in a tournament gaining valuable experience, finishing with a buffet after the game.  The winners were each presented with a bouquet of flowers.
---
American Tournament – 9th September 2018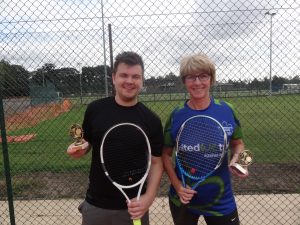 A successful mixed American tournament was held with 16 players changing partners after each set of seven games to play with another partner.  After five rounds the mens winner was Jac Goult and the ladies winner was Jane Page.
---
Team Report from Wendy Cropp – 15th September 2018
HP: Huntingdon and Peterborough League  \  NWN: North West Norfolk League
Squad: Wendy, Genia, Gary, Ryan, Laura, Stuart Sage, Jac, Sheila, Bruno
HP League: Won 4, Lost 3. Position: 4th out of 8
NWN League: Not yet completed.
[So far: Won 5 Lost 2 (1 more to play) Position: 2nd out of 5]
Squad: Jean, Bruno, Jason, Jacqui, Jac, Jay, Laura, Roger, Stuart Jupp, Sheila, Janice,
Simon, Pauline, David Brown, Jan.
HP League: Won 2, Drew 1, Lost 4. Position: 7th out of 8
NWN League: Won 1, Lost 7. Position : 4th out of 5
Squad: Gary, Seth, Ryan, James, Jac, Jordan, Bruno
Won 4, Drew 1, Lost 1 Position: 2nd out of 7 ( PROMOTION to Division 3)
Squad: Stuart Sage, Bruno, Stuart Jupp, Jay, Shyam, Jordan, Jac, Ryan
Won 1, Drew 1, Lost 6 Position : 5th out of 5 (DEMOTION to Division 2)
Squad: Wendy, Laura, Janice, Jean, Genia, Pauline, Jan, Jane, Sheila, Jacqui
Won 5, Lost 3. Position: 4th out of 9
Not yet completed 1 match to go
Squad: Wendy, Laura, Jane, Jacqui, Margaret, Anne, Genia, Debbie, Pauline, Lucy Prior
(Junior).
So far: Won 7, Drew 2 Position 1st out of 6 (PROMOTION to Division 1)
---
Club Singles Championships – 9th September 2018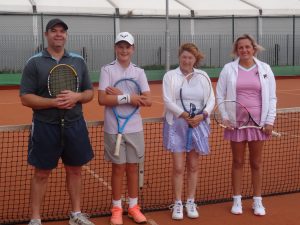 (Justin, Seth, Wendy and Laura line up before the start of the finals)
Wendy Cropp retained her singles title at the weekend beating Laura Brett 6-2, 6-2 in blustery conditions.  The Men's singles was between Justin Jackson and Seth Briggs-Williams.  Justin injured himself towards the end of the first set and had to concede the final to Seth.  An American Tournament was played in the afternoon and a BBQ and presentation followed.
---
Summer Holiday Activities – 24th July & 1/7/9 August 2018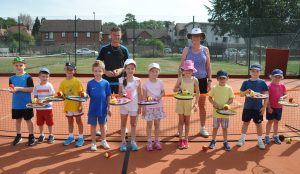 To book a place on our Summer Holiday Activities for the above dates please visit our website wisbechtennisclub.org.uk and view the coaching link for on2court.
---
Open Day Saturday –  14th July 2018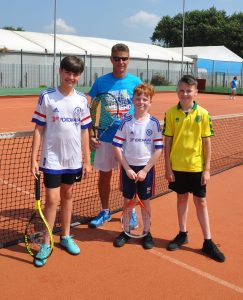 If you have been watching the tennis at Wimbledon and would like to learn to play, meet new friends, get fit, or get back into tennis, why not come along to the Open Day on Saturday 14th July from 11.00am to 1.00pm, no need to book just turn up.  Equipment will be provided and a coach will be on hand to offer advice, just wear appropriate footwear.  Adults and children of all abilities are welcome to attend.