Quorn Family Tennis Cup – Sunday 29th April, 2018
We would like to invite your child and an adult family member to play in the  Quorn Family Tennis Cup at Wisbech Tennis Club on Sunday 29th April.  
I have copied the following from the LTA website to give you more information. The Quorn™ Family Tennis Cup provides families with the opportunity to play tennis in an informal, fun competition run by their local venue, while also encouraging families to play tennis more often and to eat healthy food to complement an active lifestyle. The winners of each red ball competition will earn the opportunity of a day out at a Quorn Family Tennis Cup event held on the qualifying weekend of a LTA grass court major event in May or June.  Each pair will have the chance to play against other winners on the day as well as watch the professional players in action.
Who can play in the 2018 red ball event?
Any child born 1 September 2007 or later (10U) playing with an adult family member* born 31 August 1999 or earlier (18+)* Adult family member – parent, carer, guardian, step parent, co-parent, uncle, auntie, sibling or grandparent. The key requirement of each venue is access to mini tennis equipment (i.e. mini tennis nets, red balls and 21′ or 23′ rackets)
 Our event will take place on Sunday 29th April starting at 2:30pm (arrive from 2pm).  Entry will be £5 per pair (adult and child).  Entries will close on Thursday 26th April.   Please book your place online, following this link:
https://clubspark.lta.org.uk/QuornFamilyCup
Please note that it will be necessary to register for a Clubspark account before a booking can be made.The Tournament will take place on mini-courts, with small nets and red balls.  Adults will also use 21 or 23″ rackets which can be borrowed from the club. Please do not be put off if you feel your child is younger or less experienced, it is intended to be a fun event for all.  If you have any questions please do email.
---
AGM – Wednesday 25th April, 2018
The clubs Annual General Meeting is due to take place on Wednesday 25th April, 2018 at Mendies, Old Market, Wisbech, in the upstairs room at 7.30pm.  Why not join us for a meal beforehand at 6.00pm, add your name to the list in the clubhouse or leave a message on 07549 263767
We would like to encourage you to consider becoming a member of the Wisbech Tennis Club Committee.  If you are interested in the development of your tennis club and have ideas about how and when club sessions, tournaments and social events should take place then you would find this role interesting and fulfilling. 
We would value the insight and welcome the help of parents who would like to develop a really good tennis club for their children.  One that provides a safe, enjoyable environment for your child to excel and develop their potential in this popular sport.
If you enjoy making your community a really good place to be and have any skills that could help the club to move forward you would be very welcome as part of our team. 
---
Girl, Set, Match Tournament for Ladies – 14th April 2018
To enter this years Tournament on Saturday 14th April 2018 please use the following link and pay £5 entry on the day.   The tournament will be 2.00pm to 5.00pm and  be a timed tennis event using tie-break scoring.  This festival will offer ladies the opportunity to play in an informed doubles tournament.  Sign up as an individual and pairs will be sorted later.  A 'bring and share' match tea will follow the tournament.  Arrive at 2.00pm for a warm-up before the pairings are announced and the tournament gets underway.  
https://clubspark.lta.org.uk/TennisFestivals
---
Margaret Mee Retires from Committee – 17th February 2018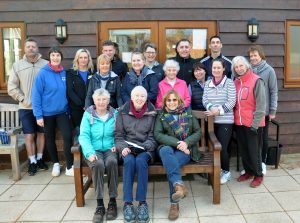 After 12 years on the committee Margaret Mee has decided to retire.  She was responsible for introducing the 100 club and took the minutes at the committee meetings amongst many other things that go on behind the scenes.  There was a huge turnout at today's tennis and cake session to wish Margaret well, and Chairman Sue Beel who also joined the committee at the same time,  presented her with a card and 'Worzals' gift vouchers as a thank you gesture from everyone. (Margaret is pictured centre front)
---
Mini Reds Tournament – 3rd February 2018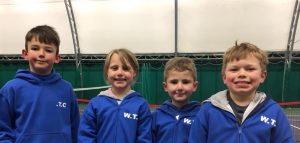 Our Mini Red team of Cassius Lee-Walker, Isabella Hampshire, Alex Parker and Felix Markille played in their first tournament at the City of Peterborough Tennis Club on Sunday afternoon.  Simon from On2Court said they did us and themselves proud at the event.  Great tennis and team spirit shown by all!
---
February Half Term Tennis Camps – 29th January 2018
Wisbech Tennis Club will be holding Half Term Tennis Camps for 4-8 Years (10.00am to 11.00am) and 9-14 Years (11.00am to 12.30pm) on Tuesday 13th February outdoors at the tennis club.  The camps will be full of coaching, matchplay and fun games.  To book your place visit on2court.co.uk/venues/wisbech-tennis-club
---
Peter Peukert Memorial Trophy – 20th December 2017

Lilliana Izzo is the latest recipient of the Peter Peukert Memorial Trophy.  14 year old Lilliana is pictured receiving a memento trophy from Fay Peukert at the Junior Christmas Party held at Elgoods Visitor Centre.    This award is presented annually to the junior player who has shown the most improvement and commitment over the season.  Mr Peukert died over 30 years ago and was a member of the club for many years, and served on the committee in a variety of roles.  He loved his tennis and played very much for the fun of it rather than competitively, although he did play in matches.  He encouraged other people to play and got his daughter Sarah involved in tennis, and the family have continued to support this award for which we are very grateful.  The children enjoyed an afternoon of fun and games followed by a tea provided by the parents.
---
Peckover House Christmas Tree Festival – 5th December 2017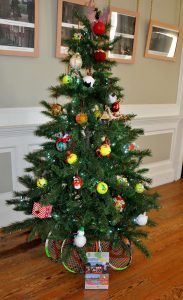 We were invited by Peckover House National Trust Wisbech, to decorate a tree in their Christmas Tree Festival.  A big thank you to all our members both adult and children, for the wonderful ideas on how to decorate a tennis ball.  The tree along with over 30 others was on display from the 9th-17th December in the House.  See our Facebook page for more photos.