Junior Club Night – 21st June 2018
Junior Club Night will start Friday 22nd June from 4.30 to 6.00pm.  It will continue every Friday through June, July and August and will be FREE to all junior members.  This will be led by Gary Fitzjohn (Club Coach) and other club volunteers and it is hoped parents will join in too!  There will be fun games and helpful coaching tips.   There is no need to book just turn up when convenient, and stay for a short time or the full session.  It is expected that parents of younger children will stay at the club please.
---
Quorn Family Tennis Finals Nottingham Tennis Centre – 10th June 2018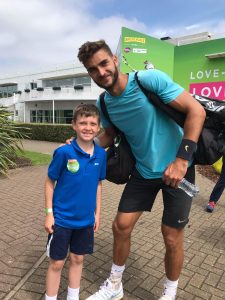 Ollie Beck and his Dad James travelled to Nottingham Tennis Centre representing Wisbech Tennis Club as part of the Quorn Family Tennis Finals.  This was played during the Nature Valley Nottingham Open which is being played from 9th-17th June. In the first round the children were divided into 6 groups of 4 couples.  Ollie won his first 2 matches and lost 1 match against a couple that eventually went on to be runners up overall.  In the second half of the competition Ollie won 1 match and lost the other.  The standard was pretty high and Ollie's group all played lovely tennis with lots of good rallies.
Following the tournament they both got to look around all the courts and saw several professional women playing.  Ollie also met Tobias Simon a 27 year old German Tennis player who had won his match earlier in the day.
Both Ollie and Dad James had a brilliant day at the Nottingham Tennis Centre and were grateful to WTC for organising the event to give them the opportunity to go.
---
Federation Cup Style Tournament – Saturday 2nd June 2018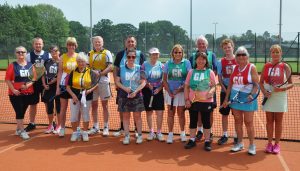 On Saturday WTC hosted their version of a Federation Cup Game where groups of 3 players took it in turn to play singles on the mini court, and doubles matches against the others. There were some very competitive games with tactics being used in places!!!
The overall winners were the navy team of Elaine DeLeuce, Jay Cooper and Janice England who won on points, with the red team of Dylan Slow, Kitty Hall and Jacqui West runners up.
---
Quorn Family Cup – 26th April 2018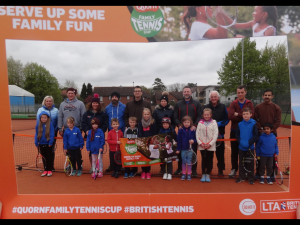 In very cold and blustery conditions, children from ages 6 – 9 took part in the The Quorn Family Cup.  They played tie-break doubles with a family member in a round robin competition.  The winners and runners-up of the two groups played in the semi-finals and the winners – Oliver and James Beck and Annabelle and Genia Giles met in the final.  At the group stage Annabelle and Genia gained the points, but after some fantastic rallies in the final Oliver and James were the eventual winners.  They will now be invited to play with other Quorn Cup winners at an LTA court event.
---
Open Day Sunday 29th April 2018
Club Open Day from 10:00am to 13:00pm   To book a FREE SESSION of Adult Coaching, Junior Coaching or Mini Tennis Place please use the following link.
https://clubspark.lta.org.uk/WisbechLawnTennisClub/Events
---
Mini Red Tournament – 14th April 2018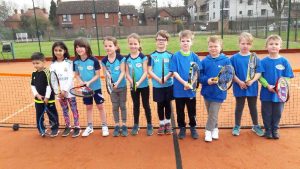 The sun shone on Saturday for a super day of tennis.  10 Junior Players took part in a mini red tournament involving players from Wisbech and Market Deeping.  All the children tried very hard and improved their tennis skills and gained valuable tournament practise.  They enjoyed meeting new friends from another tennis club and are looking forward to playing in future tournaments.  The children proudly wore their new club shirts kindly donated by Laura Brett.
---
Benenden Girls, Set, Match Festival – 14th April 2018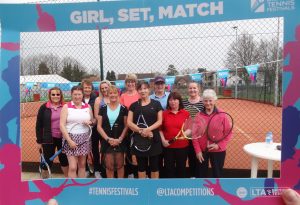 A Benenden Girls, Set, Match Festival was played on Saturday in which 12 ladies played in an American style tournament changing partners after each round.  Everyone played competitive tennis and enjoyed the games, particularly in the matches that took place on the mini court!  After five rounds Genia Giles had won most games (25) and was declared the winner and Jane Page was runner-up with 23.  
---
Easter Tennis Camps – 6th April 2018
There was fun and laughter at today's Easter Tennis Camp and the weather was good.  There were two groups held, the first at 9.30am for the younger players and a further session at 11.00am for the 9-14 years old group.  Simon Bentley from On2Court assisted by our own Laura Brett put the players through a variety of warms ups, drills, skills and games.  A further two sessions will be held at the same time on Monday.