Quiz Night Elgoods – Friday 28th February 2020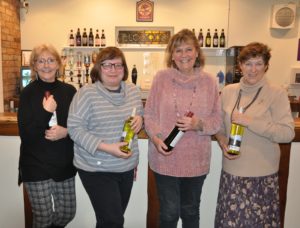 Well done to Julie Gilbert, Dorothy Halfhide, Mary Herdman and Wendy Cropp our winners from a successful quiz evening, held at Elgoods Visitor Centre. "The Dolly Mixtures" team above, won with 116 points followed by second place the "Outlaws" with 107 and third place "Dumb Clucks" with 106 points.
Quiz Master Jan Wildman set 8 rounds of questions ranging from Norfolk SuperDrive to Sport and Countryside. There were 2 table rounds covering such things as organization initials, autobiographies and tv place names.
14 teams enjoyed the evening including a buffet prepared by club members, and a raffle. All profits to go towards the club development.
A big thank you to Jan Wildman and Pam Sloat for organising the event, Elgoods for hosting, and all club members who helped out with the food and during the evening.
---
Mini Court Mixed Doubles Tournament – Friday 13th March 2020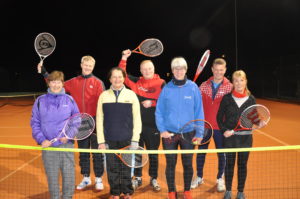 Friday evening saw a mixed doubles tournament with a difference!  Four pairs played each other twice over a 10 minute  tie break game on a mini court, with slow balls and smaller rackets.  This short game uses some different muscles and skills, and some excellent shots were played.  The eventual winners were Gary Fitzjohn and Jacqui West.  Thanks to Wendy Cropp for timekeeping and organising the event, and a buffet tea rounded off a sucessful evening.
---
Peter Peukert Memorial Trophy – Saturday 14th March 2020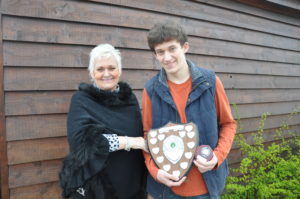 Harry Goldspink, 15, is pictured receiving the Peter Peukerk Memorial Trophy from Mrs Fay Peukert on Saturday, at a special presentation held at Wisbech Tennis Club. This award, together with a memento trophy, is presented annually to the junior player who has shown the most improvement and commitment over the season. Harry who has been a member of Wisbech Tennis Club for 5 years, received the award because of his dedication, reliability, and commitment to the club, as he regulary volunteers with junior activities, helps at Tuesday Coaching sessions, and has stepped up to play in adult tournaments. 
Mr Peukert, who loved his tennis and played very much for the fun of it rather than competitively, died more than 32 years ago and this award is presented annually.  He was a member of the club for many years and served on the committee in a variey of roles.  He encouraged others to play and got his daughter, Sarah, involved in tennis, and the family have continued to support this award for which the club is very grateful.
---
Quiz – Friday 28th February, 2020 at Elgoods Brewery Visitor Centre.
Start getting your team ready for the quiz up to 4 people £10 per person, including a 2 course supper.  6.45pm for a 7.00pm start.  Pick a team and email the names of the team members to wtcmembership@hotmail.co.uk.  Tickets available from Wendy Cropp, Jane Page, Jacqui West, or Gary Fitzjohn.  Payment by cash, cheque or BACS to 309977 account 00212017.
---
Mens Tournament – Friday 17th January 2020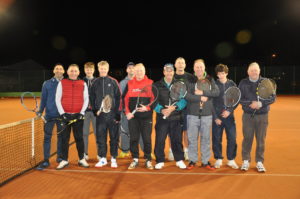 Friday nights Men's Tournament was run on a tie break singles theme over 10 minute games. The men were split into two teams 'Rafa' and 'Novak' and played each person from the opposing team. Despite the cold and blustery conditions there was some excellent tennis played and the winners from each team were Bruno Maraschin and Duncan Partington.
---
Peckover House Christmas Spectacular Event – Saturday 7th December 2019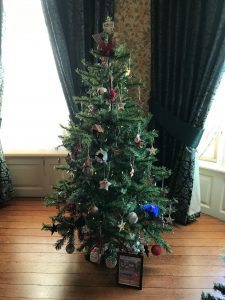 Wisbech Tennis Club is proud to have decorated a tree at Peckover House for the third year running in their Christmas Spectacular Event. A big thank you to our adult and junior members for decorating stars to go on our tree together with some tennis balls, it looks lovely with some imaginative ideas.
Peckover House, Gardens, Tea Room and Gift Shop is open from tomorrow Saturday 7th December till Sunday 15th December from 11.00am to 3.30pm. Loads of decorated trees in the house to see, festive food and drink in the Reed Barn, together with ideas for Christmas Presents.
Normal admission fees apply but free to NT members, see their website for details 
---
Children's Halloween Competition – Tuesday 22nd October 2019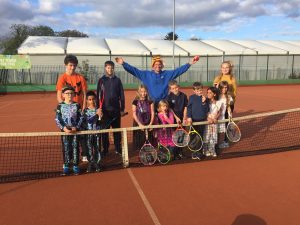 Fun and games in the sun at the tennis club for an early Halloween children's tournament!  The youngsters all enjoyed a range of different tennis activities, then finished the day with hot dogs and cake.  It was great to see some lovely outfits and the parents join in with the games.  Many thanks to Gary and Jacqui for organising the event, assisted by Lucy, Alfie and Harry.
---
Ladies Halloween Tournament – 18th October, 2019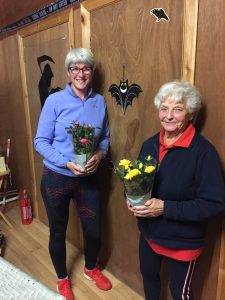 Congratulations to our winners Jane Page and Pauline Maris in our ladies Halloween tournament. Everyone swopped partners and had one game with each player in a short timed slot. Thanks to Gary Fitzjohn for being the scorekeeper in the nights event. The ladies then enjoyed a buffet and drinks to complete the evening, and celebrate Annes' Birthday with a cake.
.
---
Tournament Winners – 15th September 2019
Congratulations go to Gary Fitzjohn and Jacqui West who played in a friendly tournament at North Runcton today, where Gary won the Mens Singles and jointly they won the Mixed Doubles. Well done also to Nicky Giddens who got to the ladies finals, and played in the Mixed with Clive. It was different clubs playing with and against each other on a lovely sunny day and well run!
---
Fed Cup Style Tournament – 8th September 2019
Wisbech Tennis Club celebrated the end of their Singles Championship by holding a Fed Cup style tournament with 4 teams of 5 players. Each match was two doubles games, and a singles on the mini court (lots of fun on a smaller court!)
'Tactics' lead to a win by the White Team of Michael Giddens, Sue Beel, Gary Fitzjohn, Jane Page and Anne Piccaver.
Thanks go to Wendy Cropp for organising and running the tournament, and everyone enjoyed cakes after the tournament.
---
Singles Finals –  8th September 2019
Congratulations to our Singles Champions Seth Briggs-Williams and Sophie Tjurina on winning their titles today with some thrilling games watched by a large crowd.
Seth beat Justin Jackson 6-3, 6-4 with some great rallies and Sophie beat Wendy Cropp 6-1, 7-6 in a tense tie break. The trophies were presented by Sue Pitcher then everyone enjoyed a bring and share lunch in the sunshine.
---
Garden Party – 2nd August 2019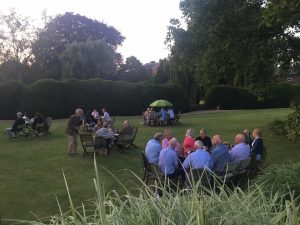 On Friday tennis club members and friends enjoyed a wonderful garden party in the gardens of Elgoods Brewery.  Exploring the gardens, enjoying a fantastic meal and listening and dancing to live music by 'In the Mood' was the perfect combination for a very enjoyable evening.  Many thanks to all who supported the event and those who helped in any way.  £2000 was raised for club development from the evening.