Junior Halloween Tournament – 29th October 2017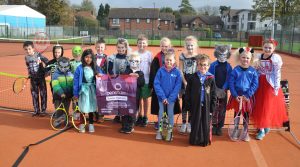 Sunday afternoon saw 25 children take part in a Halloween Tournament in fancy dress.  The morning session was for children aged 6-8 playing  singles and doubles match play.  They were split into groups of four and played against the other groups.  The winners were 'The Monsters' Group of Ollie Beck, Alex Parker, Annabelle Giles and James Cowley (photo on the home page) who were all presented with a winners medal.  The afternoon session of ages 9-14 was won by 'The Devils' Group of Andrew Pepper, Alfie Goldspink, and Charlotte Beck.  Hotdogs and cakes were served between the tournaments.
---
Halloween Adults Tournament –  27th October 2017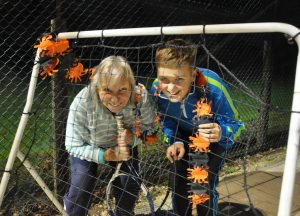 There was a spooky theme to Friday nights Restricted Mixed Doubles Tournament at the club at 6.00.  To even things up a bit the Mens' and Ladies 'A' Team members were not allowed to partner each other.  Eleven pairs entered and were split into two leagues and each team played each other over a timed match.  The two winners played each other in the final and Kitty Hall and Seth Briggs-Williams (pictured above) beat Sheila Hennesey and Stuart Sage in the final.  The players all enjoyed a feast of food and drink in the clubhouse afterwards.
---
Order your Club Hoodie Now – 13th October 2017
Now the weather is getting cooler its time to get your club hoodie on.  For details on how to order and current prices,  see the Merchandise page
---
New Adult Coaching Course Soon – 13th October 2017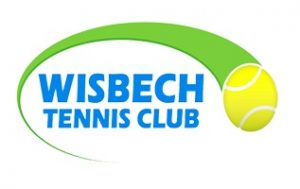 Do you know any adult beginner/improver who would like to join this new coaching course due to start after October Half Term.  This will be held on Tuesdays at 8.00pm.  To reserve a place please see our website under coaching
---
Forthcoming Events – 13th October 2017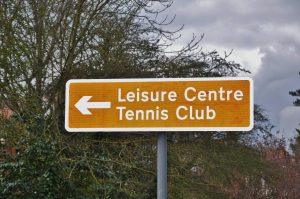 On Friday 27th october from 6.00pm the club will be holding a Restricted Mixed Tournament, which will be a timed event with tie-break scoring.  In order to 'even' things up a bit, players who have played in the Ladies 'A' team this summer may not partner a man who has played in the Men's 'A'  Team this summer.  £5 tournament entry fee as usual, please sign up in the club house.
Sunday 29th October there will be a Children's Tournament for ages 6-8 from 11.00am till 12.30pm, and ages 9-14 from 1.30pm to 3.30pm in Halloween Fancy Dress. Further details to follow.
Wednesday Afternoon sessions at 2.00pm have been suspended for the time being due to Club Match Practice in the Evening.
---
New Club Sessions and Booking Change – 8th October 2017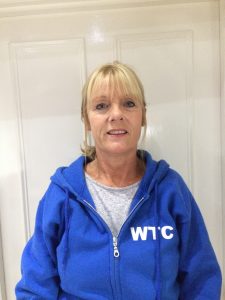 Jacqui West has taken over the booking system for Club Nights. Her email contact is wtcclubnights@gmail.com. Please note this is a different email address from before. For more information on the new sessions on offer please see our what's on page and our calendar.
---
Ladies, Set, Match -15th September 2017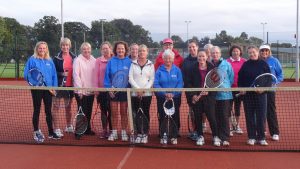 Another week, another tournament at the club. The showers disappeared and the sun shone for the start of a Ladies, Set, Match Social Tournament held this evening. Competition was fierce in short (7 minute) timed tie-break matches. Winning six of their seven matches Debbie and Jane were the eventual winners. A fantastic buffet was then enjoyed in the clubhouse.