Keep up to date with all the latest news at Wisbech Tennis Club
---
Children's Halloween Competition Tuesday 22nd October 2019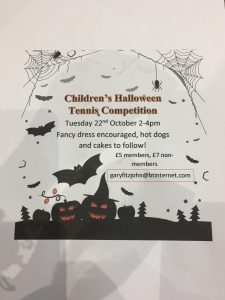 ---
Tournament Winners – 15th September 2019
Congratulations go to Gary Fitzjohn and Jacqui West who played in a friendly tournament at North Runcton today, where Gary won the Mens Singles and jointly they won the Mixed Doubles. Well done also to Nicky Giddens who got to the ladies finals, and played in the Mixed with Clive. It was different clubs playing with and against each other on a lovely sunny day and well run!
---
Fed Cup Style Tournament – 8th September 2019
Wisbech Tennis Club celebrated the end of their Singles Championship by holding a Fed Cup style tournament with 4 teams of 5 players. Each match was two doubles games, and a singles on the mini court (lots of fun on a smaller court!)
'Tactics' lead to a win by the White Team of Michael Giddens, Sue Beel, Gary Fitzjohn, Jane Page and Anne Piccaver.
Thanks go to Wendy Cropp for organising and running the tournament, and everyone enjoyed cakes after the tournament.
---
Singles Finals –  8th September 2019
Congratulations to our Singles Champions Seth Briggs-Williams and Sophie Tjurina on winning their titles today with some thrilling games watched by a large crowd.
Seth beat Justin Jackson 6-3, 6-4 with some great rallies and Sophie beat Wendy Cropp 6-1, 7-6 in a tense tie break. The trophies were presented by Sue Pitcher then everyone enjoyed a bring and share lunch in the sunshine.
---
Garden Party – 2nd August 2019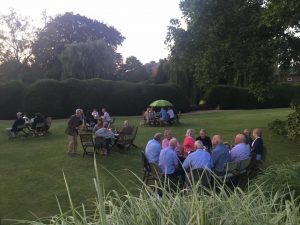 On Friday tennis club members and friends enjoyed a wonderful garden party in the gardens of Elgoods Brewery.  Exploring the gardens, enjoying a fantastic meal and listening and dancing to live music by 'In the Mood' was the perfect combination for a very enjoyable evening.  Many thanks to all who supported the event and those who helped in any way.  £2000 was raised for club development from the evening.
---
Summer Holiday Club – August 2019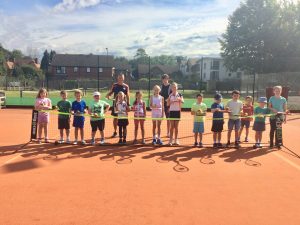 Several summer activity sessions have been run over the school holidays by Gary Fitzjohn and Jacqui West, assisted by volunteer Harry Goldspink. These covered tennis skills and fun games in the sun and were enjoyed by a great bunch of young players.
---
Junior Club Nights – July 2019
Our junior club night starts Tuesday July 30th and will run for 5 weeks u[ to and including 27th August from 4.30pm to 5.30pm.  It is supervised, free session for our Junior Members with lots of fun games and activities.   All abilities and ages are welcome and parents are invited to join in.
Membership, for children under 14 i snow at the special rate of just £15 and will also entitle you to reduced prices for the new coaching courses in September and any Holiday Activities booked through On2Court.
---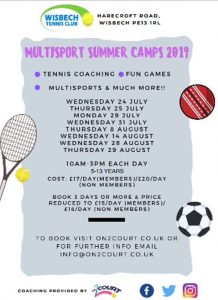 ---
Tennis Coach – July 2019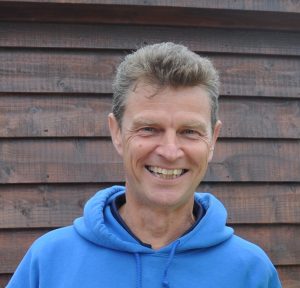 CLUB PROFILE
Meet our resident coach Gary Fitzjohn. Born in Thorney, Gary loved sport from an early age; he excelled in every sport and became captain in football, cricket and athletics. Besides playing football for Peterborough United youth side, he took part in triathlons, cycling, running, and competed in the British Championships in both roller speed skating and ice speed skating! 
At school he was told he could become a promising tennis player but with all his other sports it wasn't until his football career was coming to an end that he returned to tennis and golf, his two passions, competing and playing in many teams.
Our four times club singles champion took his coaching exams last year to become a Level 2 Coach, and together with Bruno Maraschin comes under the umbrella of our On2Court coaching team.
---
 Tennis Coach – July 2019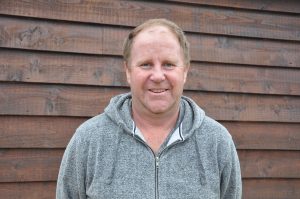 CLUB PROFILE
Meet our new coach Bruno Maraschin. Bruno (who is usually seen with his cap on!) grew up in Yeoville, South Africa, where he first became interested in tennis whilst hitting a ball against a wall in primary school, before having coaching from a early age. By High School he was playing first team tennis.
He was employed in South Africa as a P.E. Teacher and was Head of their tennis programme, involved in coaching, fixtures, ladders, and tournaments.
Bruno moved to the UK 2 years ago, and due to LTA legislations, had to retake his coaching qualifications here in the U.K. and is now a Level 2 Coach.
Both Bruno and Gary Fitzjohn, come under the umbrella of our On2Court coaching team. (See our websitewww.wisbechtennisclub.org.uk coaching for more details.
---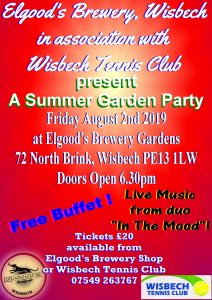 ---
8th June 2019 – New Coaching Courses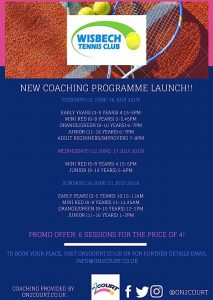 ---
25th May 2019 – Fed Cup Tournament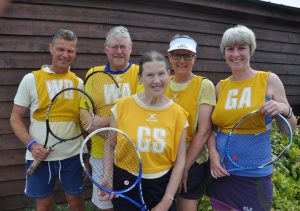 Well done to the Yellow squad of Gary Fitzjohn, Andy Lister, Wendy Mitcham, Jan Wildman and Jane Page on winning yesterdays Fed Cup Tournament. Players were in teams of 5 each taking it in turns to play either timed 7 minute doubles games on the main courts, or singles on the mini courts against the other teams.  Everyone enjoyed the fast pace of the tournament together with the sunshine on a Bank Holiday Weekend, before finishing with a buffet in the clubhouse.
---
Free Coach Led Taster Sessions
Wisbech Tennis Club have free Coach Led Taster Sessions available on Sunday 2nd June, Tuesday 4th June and Wednesday 5th June.  All ages and abilities welcome.  Click here for more details.
---
9th May 2019 – Meet our Welfare Officer Sheila Hennessy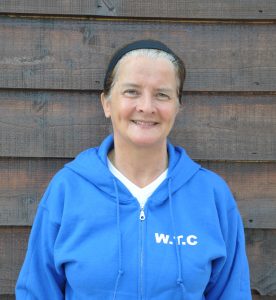 Please read our policies via the policies link of this website, or in the blue file in the clubhouse.  If you have any issues regarding Welfare please contact Sheila at sheilawtcwelfare@gmail.com
---
20th April 2019 – LTA County Award for Community Tennis Club of the Year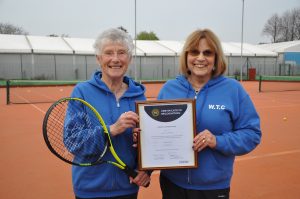 Wisbech Tennis Club is proud to announce that it has been awarded the Lawn Tennis Association County Award for COMMUNITY TENNIS CLUB OF THE YEAR The award was presented at the County's AGM in 
Cambridge to Sue Beel and Sue Pitcher on behalf of our volunteers.
Chairman of the club Sue Pitcher said "I am very pleased that our club has been recognised for the work we do all the year round to support the community of Wisbech. We welcome new people to the club, whatever their age or experience to come and make new friends and play tennis at a level suitable for their ability. The important role we play in helping local community groups to enjoy keeping fit and active and have a go at tennis has also been highlighted as a real success for the club."
---
12th April 2019 – Spring Ladies Tournament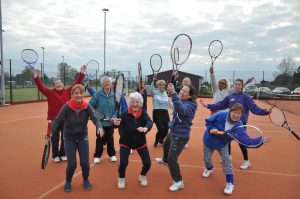 Friday evening saw twelve ladies split into two teams to play in a tournament.  Each player kept their own scores and after five rounds the winners were Sophie Tjurina and Sue Beel and the runners up were Jacqui West and Debbie Payne-English
---
6th April 2019 – Club Tidy Up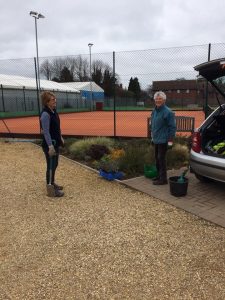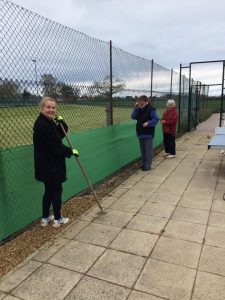 Jacqui West our Maintenance Manager and a host of members were busy on a variety of jobs to keep our courts, clubhouse, flower beds and car park tidy.  Thank you to all our members for your help.
---
1st March 2019 – Adult Mini Tournament
On Friday 1st March we held a tournament with a difference. Sixteen players took part in an adult doubles tournament on mini-courts, using smaller rackets and softer balls. Matches were timed so play was fast and furious with all pairs aiming to score as many points as possible during each of the 7 rounds. Scores were close with just one or two points deciding many games. The ladies partnership of Wendy and Nicky were the eventual winners, in their match against second place Tom and Lucy there was just one point difference. Following the tournament players enjoyed a buffet in the clubhouse.
Mini-Court tennis is proving popular at the club during the Saturday afternoon Social Sessions. If you would like to try tennis for the first time or are looking to return to the game pop along anytime after 1:30pm on a Saturday afternoon.
---
100 Club – 30th January 2019
Wisbech Tennis Club is fund raising to create two new tennis courts. There are a variety of fund raising events happening over the next few months, but if you find that you have a busy schedule then one way to contribute is through the 100 Club. This will cost you £5 each month and you may win something as well. At present the 100 Club has raised money to provide posts and nets etc for the new courts but would like to help pay towards the cost of installing lighting for these courts.
Please take a look at our website www.wisbechtennisclub.org.uk (under 100 Club) which has information on how to join and help contribute to our fundraising campaign.
---
Matchplay and Half Term Camps – Book Now
Details of our Sunday Matchplay Event on 27 January and February Half Term Camp on Monday 18 February.
The matchplay events will be divided into 2 categories; 8 & under and 9-16 years. The 8U event will be an informal competition where children get to learn how to play matches as well as have a chance to compete in a friendly environment against their peers. The 9-16 years event will be a team competition (dependent on entries) where players will be placed into teams with the aim of players competing against others of a similar age/level.
Closing date for the January Events is Thursday 24 January. We do ask that if you plan on attending either or both events you book as early as possible as it means we can plan and staff appropriately-thank you.
Coaching Update for 2019 – 7th December 2019 ( Letter from On2Court )
I am contacting you all to clarify the coaching activity situation which will be in place in the new year up to Easter 2019.
Firstly, I would like to say a big thank you to Laura Brett for running our Sunday Coaching Programme from September to December. The Club/On2Court were in a difficult position over the summer where we were left with a short amount of time to find a coach for the Sunday programme and therefore Laura helped us out of that situation. So for next term we shall be making some temporary changes to our schedule.
Coaching sessions will continue as usual on Tuesday evenings with Gary Fitzjohn continuing to run these. The session timings will be as follows;
Mini Red (4-6 years) 4.15-5pm
Mini Red (7-8pm) 5-5.45pm
Juniors (9-16 years) 6-7pm
Adult Beginners 7.30-8.30pm
Although we are unable to run regular Sunday coaching next term we will be running two tournaments on the following Sundays with further details to follow shortly;
Sunday 27 January 
Sunday 17 March
We are also announcing the following dates for February half term and Easter Camps so you can put them in the diary early;
February Camp-Monday 18 February 
Easter Camp-Monday 8 April & Tuesday 9 April
Again, further details will follow with these camps. We therefore still have a good spread of coaching/competitive opportunities taking place at the club throughout the term. 
Looking further ahead, myself and the club are putting plans in place for longer term coaching provision with a view to the summer term. We understand that those of you who currently attend coaching on Sundays may be a little disappointed by this. Hopefully, even if it's temporarily, many of you may be able to move across to a Tuesday. For those who cannot, we hope to see you taking part in the competitive events we have planned on a Sunday as well as the holiday activities. 
We hope you understand that this is a difficult situation for the club and finding coaches to take over part time/temporary coaching positions at short notice is extremely difficult and an issue that many clubs suffer from. We therefore hope you bear with us during this time. 
Finally, we would like to wish you all a Merry Xmas and a happy and healthy new year!