Keep up to date with all the latest news at Wisbech Tennis Club
---
Margaret Mee Retires from Committee – 17th February 2018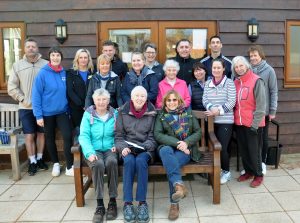 After 12 years on the committee Margaret Mee has decided to retire.  She was responsible for introducing the 100 club and took the minutes at the committee meetings amongst many other things that go on behind the scenes.  There was a huge turnout at today's tennis and cake session to wish Margaret well, and Chairman Sue Beel who also joined the committee at the same time,  presented her with a card and 'Worzals' gift vouchers as a thank you gesture from everyone. (Margaret is pictured centre front)
---
Mini Reds Tournament – 3rd February 2018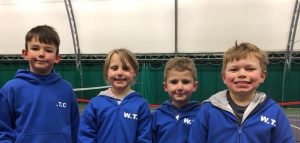 Our Mini Red team of Cassius Lee-Walker, Isabella Hampshire, Alex Parker and Felix Markille played in their first tournament at the City of Peterborough Tennis Club on Sunday afternoon.  Simon from On2Court said they did us and themselves proud at the event.  Great tennis and team spirit shown by all!
---
February Half Term Tennis Camps – 29th January 2018
Wisbech Tennis Club will be holding Half Term Tennis Camps for 4-8 Years (10.00am to 11.00am) and 9-14 Years (11.00am to 12.30pm) on Tuesday 13th February outdoors at the tennis club.  The camps will be full of coaching, matchplay and fun games.  To book your place visit on2court.co.uk/venues/wisbech-tennis-club
---
Peter Peukert Memorial Trophy – 20th December 2017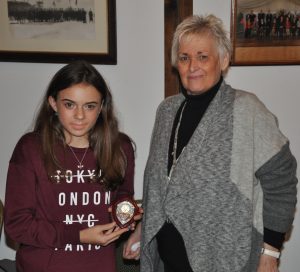 Lilliana Izzo is the latest recipient of the Peter Peukert Memorial Trophy.  14 year old Lilliana is pictured receiving a memento trophy from Fay Peukert at the Junior Christmas Party held at Elgoods Visitor Centre.    This award is presented annually to the junior player who has shown the most improvement and commitment over the season.  Mr Peukert died over 30 years ago and was a member of the club for many years, and served on the committee in a variety of roles.  He loved his tennis and played very much for the fun of it rather than competitively, although he did play in matches.  He encouraged other people to play and got his daughter Sarah involved in tennis, and the family have continued to support this award for which we are very grateful.  The children enjoyed an afternoon of fun and games followed by a tea provided by the parents.
---
Peckover House Christmas Tree Festival – 5th December 2017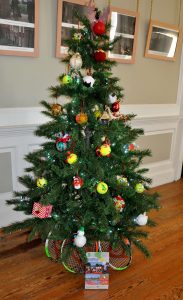 We were invited by Peckover House National Trust Wisbech, to decorate a tree in their Christmas Tree Festival.  A big thank you to all our members both adult and children, for the wonderful ideas on how to decorate a tennis ball.  The tree along with over 30 others was on display from the 9th-17th December in the House.  See our Facebook page for more photos.
---
Junior Halloween Tournament – 29th October 2017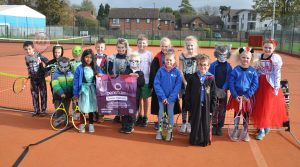 Sunday afternoon saw 25 children take part in a Halloween Tournament in fancy dress.  The morning session was for children aged 6-8 playing  singles and doubles match play.  They were split into groups of four and played against the other groups.  The winners were 'The Monsters' Group of Ollie Beck, Alex Parker, Annabelle Giles and James Cowley (photo on the home page) who were all presented with a winners medal.  The afternoon session of ages 9-14 was won by 'The Devils' Group of Andrew Pepper, Alfie Goldspink, and Charlotte Beck.  Hotdogs and cakes were served between the tournaments.
---
Halloween Adults Tournament –  27th October 2017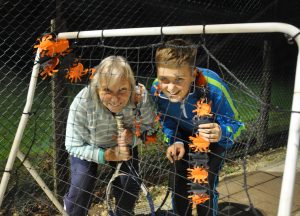 There was a spooky theme to Friday nights Restricted Mixed Doubles Tournament at the club at 6.00.  To even things up a bit the Mens' and Ladies 'A' Team members were not allowed to partner each other.  Eleven pairs entered and were split into two leagues and each team played each other over a timed match.  The two winners played each other in the final and Kitty Hall and Seth Briggs-Williams (pictured above) beat Sheila Hennesey and Stuart Sage in the final.  The players all enjoyed a feast of food and drink in the clubhouse afterwards.
---
Order your Club Hoodie Now – 13th October 2017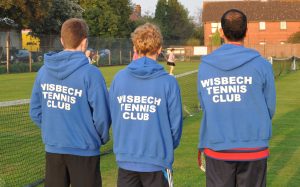 Now the weather is getting cooler its time to get your club hoodie on.  For details on how to order and current prices,  see the Merchandise page
---
New Adult Coaching Course Soon – 13th October 2017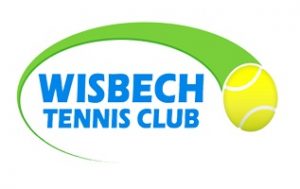 Do you know any adult beginner/improver who would like to join this new coaching course due to start after October Half Term.  This will be held on Tuesdays at 8.00pm.  To reserve a place please see our website under coaching.
---
Forthcoming Events – 13th October 2017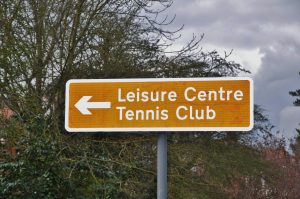 On Friday 27th october from 6.00pm the club will be holding a Restricted Mixed Tournament, which will be a timed event with tie-break scoring.  In order to 'even' things up a bit, players who have played in the Ladies 'A' team this summer may not partner a man who has played in the Men's 'A'  Team this summer.  £5 tournament entry fee as usual, please sign up in the club house.
Sunday 29th October there will be a Children's Tournament for ages 6-8 from 11.00am till 12.30pm, and ages 9-14 from 1.30pm to 3.30pm in Halloween Fancy Dress. Further details to follow.
Wednesday Afternoon sessions at 2.00pm have been suspended for the time being due to Club Match Practice in the Evening.
---
New Club Sessions and Booking Change – 8th October 2017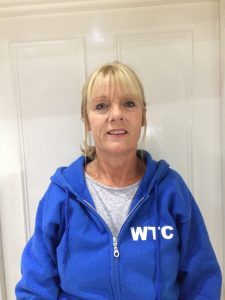 Jacqui West has taken over the booking system for Club Nights. Her email contact is wtcclubnights@gmail.com. Please note this is a different email address from before. For more information on the new sessions on offer please see our what's on page and our calendar.
---
Ladies, Set, Match -15th September 2017
Another week, another tournament at the club. The showers disappeared and the sun shone for the start of a Ladies, Set, Match Social Tournament held this evening. Competition was fierce in short (7 minute) timed tie-break matches. Winning six of their seven matches Debbie and Jane were the eventual winners. A fantastic buffet was then enjoyed in the clubhouse.