Keep up to date with all the latest news at Wisbech Tennis Club
Coaching Update for 2019 – 7th December 2019 ( Letter from On2Court )
I am contacting you all to clarify the coaching activity situation which will be in place in the new year up to Easter 2019.

Firstly, I would like to say a big thank you to Laura Brett for running our Sunday Coaching Programme from September to December. The Club/On2Court were in a difficult position over the summer where we were left with a short amount of time to find a coach for the Sunday programme and therefore Laura helped us out of that situation. So for next term we shall be making some temporary changes to our schedule.

Coaching sessions will continue as usual on Tuesday evenings with Gary Fitzjohn continuing to run these. The session timings will be as follows;

Mini Red (4-6 years) 4.15-5pm

Mini Red (7-8pm) 5-5.45pm

Juniors (9-16 years) 6-7pm

Adult Beginners 7.30-8.30pm

Although we are unable to run regular Sunday coaching next term we will be running two tournaments on the following Sundays with further details to follow shortly;

Sunday 27 January 

Sunday 17 March

We are also announcing the following dates for February half term and Easter Camps so you can put them in the diary early;

February Camp-Monday 18 February 

Easter Camp-Monday 8 April & Tuesday 9 April

Again, further details will follow with these camps. We therefore still have a good spread of coaching/competitive opportunities taking place at the club throughout the term. 

Looking further ahead, myself and the club are putting plans in place for longer term coaching provision with a view to the summer term. We understand that those of you who currently attend coaching on Sundays may be a little disappointed by this. Hopefully, even if it's temporarily, many of you may be able to move across to a Tuesday. For those who cannot, we hope to see you taking part in the competitive events we have planned on a Sunday as well as the holiday activities. 

We hope you understand that this is a difficult situation for the club and finding coaches to take over part time/temporary coaching positions at short notice is extremely difficult and an issue that many clubs suffer from. We therefore hope you bear with us during this time. 

Finally, we would like to wish you all a Merry Xmas and a happy and healthy new year!

Simon Bentley

Director



Peter Peukerk Memorial Trophy and Junior Christmas Party – 9th December 2018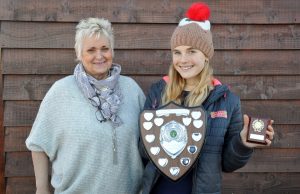 Lucy Prior 15, is pictured receiving the Peter Peukert Memorial Trophy from Mrs Fay Peukert at Wisbech Tennis Clubs junior Christmas Party held at the club on Sunday 9th December 2018.
The award is presented annually to the junior player together with a memento trophy,  who has shown the most improvement and commitment over the season.  Lucy was nominated by the club coaches and committee, as not only has her tennis improved but she has played in her first ladies league match this season, a tournament, and regularly helps out with junior coaching. 
Mr Peukert, who loved his tennis and played very much for the fun of it rather than competitively, died more than 31 years ago and this award is presented annually.  He was a member of the club for many years and served on the committee in a variety of roles.  He encouraged others to play and got his daughter Sarah, involved in tennis, and the family have continued to support this award for which the club is very grateful.  
The children enjoyed a session of fun tennis games in the sunshine in their christmas jumpers, helped by our older junior members Harry and Alfie Goldspink and Lucy,  before moving indoors to the clubhouse for more traditional games.  This was followed by hotdogs, and party food and drink.  Many thanks to Committee Members Jane Page, Sue Pitcher, Jacqui West, Sue Beel, Club Coach Gary Fitzjohn and Sue Tolliday for making it all
possible.
---
Christmas Tree at Peckover House – 8th to 16th December 2018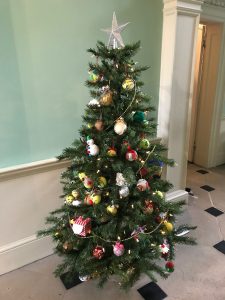 Our festive tree for Peckover House is on display in the main hall this year.  Peckover is open to the public from 8th to 16th December 2018, normal admission prices apply, House, Garden and Tea Room all open with music and choirs on at selected times please see their website for more details.  A very big thank you to our adult and junior members for all their imaginative ideas on decorating a tennis ball again this year.
---
Adults Restricted Mixed Tournament – 9th November 2018

16 players took part in a restricted mixed tournament on Friday evening.  This was played on a timed 7 minute tie break with restrictions on some 'A' team players not partnering other 'A' team players.  The result after 7 games was tied on points but the eventual winners on shots difference were Seth Briggs-Williams and Kitty Hall, with Pauline Maris and Gary Fitzjohn coming a very close second.  A buffet tea together with liquid refreshments were enjoyed in the clubhouse after the game. 
---
Coaching Courses – 28th October 2018
Coaching courses begin this week on Tuesday 30th October,  and Sunday 4th November, see the coaching tab for details and booking.
---
Quiz Night at Elgoods Visitor Centre – 26th October 2018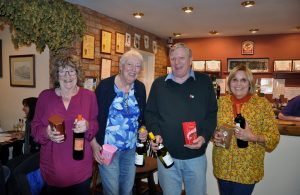 A fantastic quiz night was held at Elgoods Visitor Centre on Friday evening organised by Laura Brett for the Tennis Club.   13 teams of 4 people battled it out over 8 rounds of questions, together with a very taxing table top round on Planets, The Shipping Forecast, Monarchs, Astrological Symbols, Greek Alphabet and Weights!  The eventual winners were Sue Meathey, Margaret Mee, John Westwood and Sue Pitcher who were presented with wine and chocolates.  The runner up team of 'Thinking Caps'  (who donned caps for event),  Greg Page, Stuart Jupp, Will Jupp and Jason Smith were also presented with chocolates.  A huge thank you to Jan Wildman for setting the questions and keeping order (with her Colander and ladle!) over the evenings proceedings.  Also thanks to everyone else who helped with the event, prepared the buffet, made the wonderful cakes, and the generous donations of raffle prizes.  Thanks to Belinda Sutton of Elgoods for hosting the event which raised £756 towards the funding for the new hard courts.
---
Decorate a tennis ball for our Christmas Tree in Peckover House
There are a number of tennis balls on string all ready for you to get creative for this years Christmas Tree at Peckover House.  This will be staged between 9th to 16th December 2018.  We had some wonderful ideas and creations last year and if you are stuck for inspiration you can always look on the internet.  They don't have to be expensively done, whatever you have at home will do, just enjoy decorating them.  Not just for children adults can do one too!  If you would like to go into the draw for some free tickets for this event please place your name in the envelope on the notice board or let Sue know.
---
Halloween Tournament – 25th October 2018
A group photo before our first introductory Halloween Tournament for ages 6,7 and 8.   The children all played each other in a game of timed singles on mini sized courts to give them match experience.  Great fun was had by all in the sunshine, and it was good to see the parents join in with the children at the end.  All the players received a certificate for taking part, and Felix Markillie was the overall winner and was presented with a medal. Hot dogs were served after the match together with Halloween themed cakes.
Thanks to Jane, Gary, Jacqui, and Sue for helping out, and a special thanks to our young volunteers, Lucy, Alfie, Harry and Emma.
---
Ladies Tournament – 29th September 2018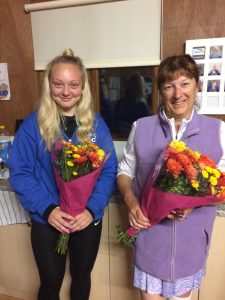 17 year old Charlotte Brett partnered with Wendy Cropp were the successful winners of Fridays Ladies Tournament.   The round robin event was organised by Jane Page with Sue Pitcher as timekeeper, and each pair played a timed 7 minutes tie break. This was the first time several ladies had played in a tournament gaining valuable experience, finishing with a buffet after the game.  The winners were each presented with a bouquet of flowers.
---
American Tournament – 9th September 2018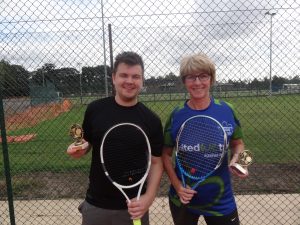 A successful mixed American tournament was held with 16 players changing partners after each set of seven games to play with another partner.  After five rounds the mens winner was Jac Goult and the ladies winner was Jane Page.
---
Team Report from Wendy Cropp – 15th September 2018
HP: Huntingdon and Peterborough League  \  NWN: North West Norfolk League
Squad: Wendy, Genia, Gary, Ryan, Laura, Stuart Sage, Jac, Sheila, Bruno
HP League: Won 4, Lost 3. Position: 4th out of 8
NWN League: Not yet completed.
[So far: Won 5 Lost 2 (1 more to play) Position: 2nd out of 5]
Squad: Jean, Bruno, Jason, Jacqui, Jac, Jay, Laura, Roger, Stuart Jupp, Sheila, Janice,
Simon, Pauline, David Brown, Jan.
HP League: Won 2, Drew 1, Lost 4. Position: 7th out of 8
NWN League: Won 1, Lost 7. Position : 4th out of 5
Squad: Gary, Seth, Ryan, James, Jac, Jordan, Bruno
Won 4, Drew 1, Lost 1 Position: 2nd out of 7 ( PROMOTION to Division 3)
Squad: Stuart Sage, Bruno, Stuart Jupp, Jay, Shyam, Jordan, Jac, Ryan
Won 1, Drew 1, Lost 6 Position : 5th out of 5 (DEMOTION to Division 2)
Squad: Wendy, Laura, Janice, Jean, Genia, Pauline, Jan, Jane, Sheila, Jacqui
Won 5, Lost 3. Position: 4th out of 9
Not yet completed 1 match to go
Squad: Wendy, Laura, Jane, Jacqui, Margaret, Anne, Genia, Debbie, Pauline, Lucy Prior
(Junior).
So far: Won 7, Drew 2 Position 1st out of 6 (PROMOTION to Division 1)
---
Club Singles Championships – 9th September 2018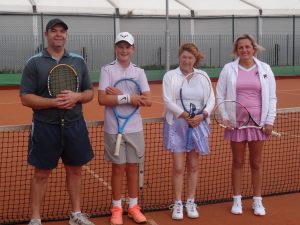 (Justin, Seth, Wendy and Laura line up before the start of the finals)
Wendy Cropp retained her singles title at the weekend beating Laura Brett 6-2, 6-2 in blustery conditions.  The Men's singles was between Justin Jackson and Seth Briggs-Williams.  Justin injured himself towards the end of the first set and had to concede the final to Seth.  An American Tournament was played in the afternoon and a BBQ and presentation followed.
---
Summer Holiday Activities – 24th July & 1/7/9 August 2018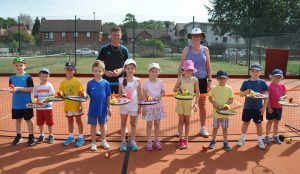 To book a place on our Summer Holiday Activities for the above dates please visit our website wisbechtennisclub.org.uk and view the coaching link for on2court.
---
Open Day Saturday –  14th July 2018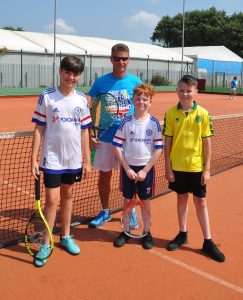 If you have been watching the tennis at Wimbledon and would like to learn to play, meet new friends, get fit, or get back into tennis, why not come along to the Open Day on Saturday 14th July from 11.00am to 1.00pm, no need to book just turn up.  Equipment will be provided and a coach will be on hand to offer advice, just wear appropriate footwear.  Adults and children of all abilities are welcome to attend.
---
Junior Club Night – 21st June 2018
Junior Club Night will start Friday 22nd June from 4.30 to 6.00pm.  It will continue every Friday through June, July and August and will be FREE to all junior members.  This will be led by Gary Fitzjohn (Club Coach) and other club volunteers and it is hoped parents will join in too!  There will be fun games and helpful coaching tips.   There is no need to book just turn up when convenient, and stay for a short time or the full session.  It is expected that parents of younger children will stay at the club please.
---
Quorn Family Tennis Finals Nottingham Tennis Centre – 10th June 2018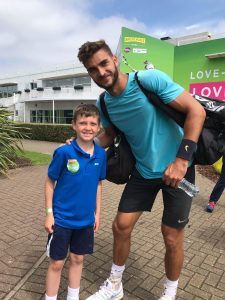 Ollie Beck and his Dad James travelled to Nottingham Tennis Centre representing Wisbech Tennis Club as part of the Quorn Family Tennis Finals.  This was played during the Nature Valley Nottingham Open which is being played from 9th-17th June. In the first round the children were divided into 6 groups of 4 couples.  Ollie won his first 2 matches and lost 1 match against a couple that eventually went on to be runners up overall.  In the second half of the competition Ollie won 1 match and lost the other.  The standard was pretty high and Ollie's group all played lovely tennis with lots of good rallies.
Following the tournament they both got to look around all the courts and saw several professional women playing.  Ollie also met Tobias Simon a 27 year old German Tennis player who had won his match earlier in the day.
Both Ollie and Dad James had a brilliant day at the Nottingham Tennis Centre and were grateful to WTC for organising the event to give them the opportunity to go.
---
Federation Cup Style Tournament – Saturday 2nd June 2018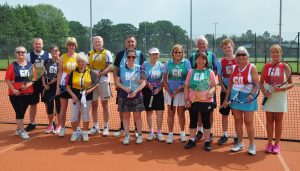 On Saturday WTC hosted their version of a Federation Cup Game where groups of 3 players took it in turn to play singles on the mini court, and doubles matches against the others. There were some very competitive games with tactics being used in places!!!
The overall winners were the navy team of Elaine DeLeuce, Jay Cooper and Janice England who won on points, with the red team of Dylan Slow, Kitty Hall and Jacqui West runners up.
---
Quorn Family Cup – 26th April 2018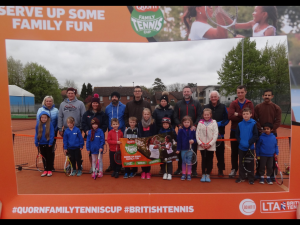 In very cold and blustery conditions, children from ages 6 – 9 took part in the The Quorn Family Cup.  They played tie-break doubles with a family member in a round robin competition.  The winners and runners-up of the two groups played in the semi-finals and the winners – Oliver and James Beck and Annabelle and Genia Giles met in the final.  At the group stage Annabelle and Genia gained the points, but after some fantastic rallies in the final Oliver and James were the eventual winners.  They will now be invited to play with other Quorn Cup winners at an LTA court event.
---
Open Day Sunday 29th April 2018
Club Open Day from 10:00am to 13:00pm   To book a FREE SESSION of Adult Coaching, Junior Coaching or Mini Tennis Place please use the following link.
https://clubspark.lta.org.uk/WisbechLawnTennisClub/Events
---
Mini Red Tournament – 14th April 2018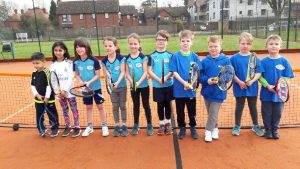 The sun shone on Saturday for a super day of tennis.  10 Junior Players took part in a mini red tournament involving players from Wisbech and Market Deeping.  All the children tried very hard and improved their tennis skills and gained valuable tournament practise.  They enjoyed meeting new friends from another tennis club and are looking forward to playing in future tournaments.  The children proudly wore their new club shirts kindly donated by Laura Brett.
---
Benenden Girls, Set, Match Festival – 14th April 2018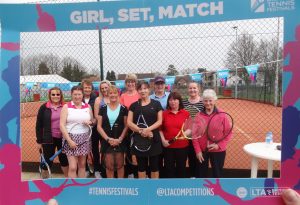 A Benenden Girls, Set, Match Festival was played on Saturday in which 12 ladies played in an American style tournament changing partners after each round.  Everyone played competitive tennis and enjoyed the games, particularly in the matches that took place on the mini court!  After five rounds Genia Giles had won most games (25) and was declared the winner and Jane Page was runner-up with 23.  
---
Easter Tennis Camps – 6th April 2018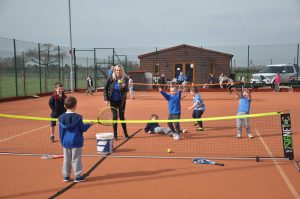 There was fun and laughter at today's Easter Tennis Camp and the weather was good.  There were two groups held, the first at 9.30am for the younger players and a further session at 11.00am for the 9-14 years old group.  Simon Bentley from On2Court assisted by our own Laura Brett put the players through a variety of warms ups, drills, skills and games.  A further two sessions will be held at the same time on Monday.
---
Quorn Family Tennis Cup – Sunday 29th April, 2018
We would like to invite your child and an adult family member to play in the  Quorn Family Tennis Cup at Wisbech Tennis Club on Sunday 29th April.  
I have copied the following from the LTA website to give you more information. The Quorn™ Family Tennis Cup provides families with the opportunity to play tennis in an informal, fun competition run by their local venue, while also encouraging families to play tennis more often and to eat healthy food to complement an active lifestyle. The winners of each red ball competition will earn the opportunity of a day out at a Quorn Family Tennis Cup event held on the qualifying weekend of a LTA grass court major event in May or June.  Each pair will have the chance to play against other winners on the day as well as watch the professional players in action.
Who can play in the 2018 red ball event?
Any child born 1 September 2007 or later (10U) playing with an adult family member* born 31 August 1999 or earlier (18+)* Adult family member – parent, carer, guardian, step parent, co-parent, uncle, auntie, sibling or grandparent. The key requirement of each venue is access to mini tennis equipment (i.e. mini tennis nets, red balls and 21′ or 23′ rackets)
 Our event will take place on Sunday 29th April starting at 2:30pm (arrive from 2pm).  Entry will be £5 per pair (adult and child).  Entries will close on Thursday 26th April.   Please book your place online, following this link:
https://clubspark.lta.org.uk/QuornFamilyCup
Please note that it will be necessary to register for a Clubspark account before a booking can be made.The Tournament will take place on mini-courts, with small nets and red balls.  Adults will also use 21 or 23″ rackets which can be borrowed from the club. Please do not be put off if you feel your child is younger or less experienced, it is intended to be a fun event for all.  If you have any questions please do email.
---
AGM – Wednesday 25th April, 2018
The clubs Annual General Meeting is due to take place on Wednesday 25th April, 2018 at Mendies, Old Market, Wisbech, in the upstairs room at 7.30pm.  Why not join us for a meal beforehand at 6.00pm, add your name to the list in the clubhouse or leave a message on 07549 263767
We would like to encourage you to consider becoming a member of the Wisbech Tennis Club Committee.  If you are interested in the development of your tennis club and have ideas about how and when club sessions, tournaments and social events should take place then you would find this role interesting and fulfilling. 
We would value the insight and welcome the help of parents who would like to develop a really good tennis club for their children.  One that provides a safe, enjoyable environment for your child to excel and develop their potential in this popular sport.
If you enjoy making your community a really good place to be and have any skills that could help the club to move forward you would be very welcome as part of our team. 
---
Girl, Set, Match Tournament for Ladies – 14th April 2018
To enter this years Tournament on Saturday 14th April 2018 please use the following link and pay £5 entry on the day.   The tournament will be 2.00pm to 5.00pm and  be a timed tennis event using tie-break scoring.  This festival will offer ladies the opportunity to play in an informed doubles tournament.  Sign up as an individual and pairs will be sorted later.  A 'bring and share' match tea will follow the tournament.  Arrive at 2.00pm for a warm-up before the pairings are announced and the tournament gets underway.  
https://clubspark.lta.org.uk/TennisFestivals
---
Margaret Mee Retires from Committee – 17th February 2018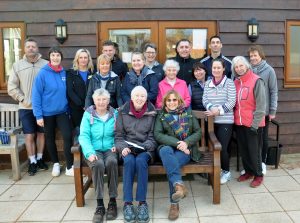 After 12 years on the committee Margaret Mee has decided to retire.  She was responsible for introducing the 100 club and took the minutes at the committee meetings amongst many other things that go on behind the scenes.  There was a huge turnout at today's tennis and cake session to wish Margaret well, and Chairman Sue Beel who also joined the committee at the same time,  presented her with a card and 'Worzals' gift vouchers as a thank you gesture from everyone. (Margaret is pictured centre front)
---
Mini Reds Tournament – 3rd February 2018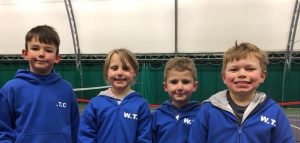 Our Mini Red team of Cassius Lee-Walker, Isabella Hampshire, Alex Parker and Felix Markille played in their first tournament at the City of Peterborough Tennis Club on Sunday afternoon.  Simon from On2Court said they did us and themselves proud at the event.  Great tennis and team spirit shown by all!
---
February Half Term Tennis Camps – 29th January 2018
Wisbech Tennis Club will be holding Half Term Tennis Camps for 4-8 Years (10.00am to 11.00am) and 9-14 Years (11.00am to 12.30pm) on Tuesday 13th February outdoors at the tennis club.  The camps will be full of coaching, matchplay and fun games.  To book your place visit on2court.co.uk/venues/wisbech-tennis-club
---
Peter Peukert Memorial Trophy – 20th December 2017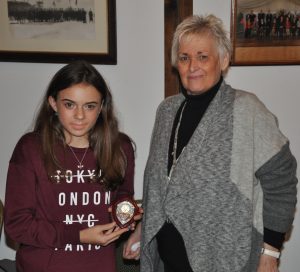 Lilliana Izzo is the latest recipient of the Peter Peukert Memorial Trophy.  14 year old Lilliana is pictured receiving a memento trophy from Fay Peukert at the Junior Christmas Party held at Elgoods Visitor Centre.    This award is presented annually to the junior player who has shown the most improvement and commitment over the season.  Mr Peukert died over 30 years ago and was a member of the club for many years, and served on the committee in a variety of roles.  He loved his tennis and played very much for the fun of it rather than competitively, although he did play in matches.  He encouraged other people to play and got his daughter Sarah involved in tennis, and the family have continued to support this award for which we are very grateful.  The children enjoyed an afternoon of fun and games followed by a tea provided by the parents.
---
Peckover House Christmas Tree Festival – 5th December 2017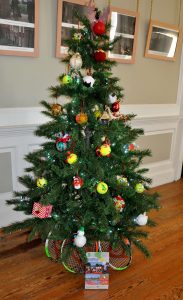 We were invited by Peckover House National Trust Wisbech, to decorate a tree in their Christmas Tree Festival.  A big thank you to all our members both adult and children, for the wonderful ideas on how to decorate a tennis ball.  The tree along with over 30 others was on display from the 9th-17th December in the House.  See our Facebook page for more photos.
---
Junior Halloween Tournament – 29th October 2017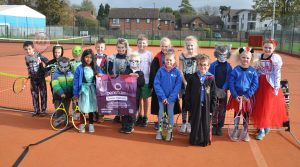 Sunday afternoon saw 25 children take part in a Halloween Tournament in fancy dress.  The morning session was for children aged 6-8 playing  singles and doubles match play.  They were split into groups of four and played against the other groups.  The winners were 'The Monsters' Group of Ollie Beck, Alex Parker, Annabelle Giles and James Cowley (photo on the home page) who were all presented with a winners medal.  The afternoon session of ages 9-14 was won by 'The Devils' Group of Andrew Pepper, Alfie Goldspink, and Charlotte Beck.  Hotdogs and cakes were served between the tournaments.
---
Halloween Adults Tournament –  27th October 2017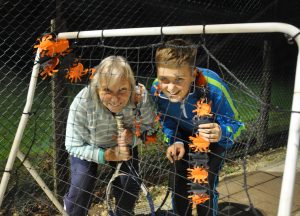 There was a spooky theme to Friday nights Restricted Mixed Doubles Tournament at the club at 6.00.  To even things up a bit the Mens' and Ladies 'A' Team members were not allowed to partner each other.  Eleven pairs entered and were split into two leagues and each team played each other over a timed match.  The two winners played each other in the final and Kitty Hall and Seth Briggs-Williams (pictured above) beat Sheila Hennesey and Stuart Sage in the final.  The players all enjoyed a feast of food and drink in the clubhouse afterwards.
---
Order your Club Hoodie Now – 13th October 2017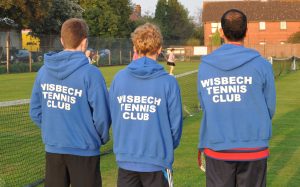 Now the weather is getting cooler its time to get your club hoodie on.  For details on how to order and current prices,  see the Merchandise page
---
New Adult Coaching Course Soon – 13th October 2017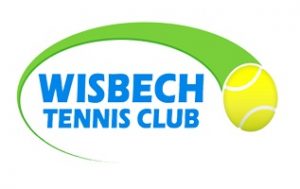 Do you know any adult beginner/improver who would like to join this new coaching course due to start after October Half Term.  This will be held on Tuesdays at 8.00pm.  To reserve a place please see our website under coaching.
---
Forthcoming Events – 13th October 2017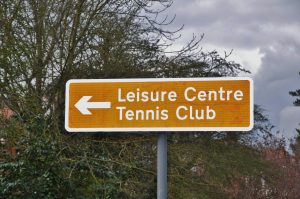 On Friday 27th october from 6.00pm the club will be holding a Restricted Mixed Tournament, which will be a timed event with tie-break scoring.  In order to 'even' things up a bit, players who have played in the Ladies 'A' team this summer may not partner a man who has played in the Men's 'A'  Team this summer.  £5 tournament entry fee as usual, please sign up in the club house.
Sunday 29th October there will be a Children's Tournament for ages 6-8 from 11.00am till 12.30pm, and ages 9-14 from 1.30pm to 3.30pm in Halloween Fancy Dress. Further details to follow.
Wednesday Afternoon sessions at 2.00pm have been suspended for the time being due to Club Match Practice in the Evening.
---
New Club Sessions and Booking Change – 8th October 2017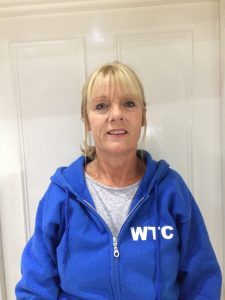 Jacqui West has taken over the booking system for Club Nights. Her email contact is wtcclubnights@gmail.com. Please note this is a different email address from before. For more information on the new sessions on offer please see our what's on page and our calendar.
---
Ladies, Set, Match -15th September 2017
Another week, another tournament at the club. The showers disappeared and the sun shone for the start of a Ladies, Set, Match Social Tournament held this evening. Competition was fierce in short (7 minute) timed tie-break matches. Winning six of their seven matches Debbie and Jane were the eventual winners. A fantastic buffet was then enjoyed in the clubhouse.